2018
The Incredible Wild Flower Meadow mid May to early June
Late May. It may not be the best photo (sorry Nathan) but we can at least verify now that we still have toads living in the garden. We've seen a lot of frogs but very few toads over the last year or so which makes this a very welcome sighting.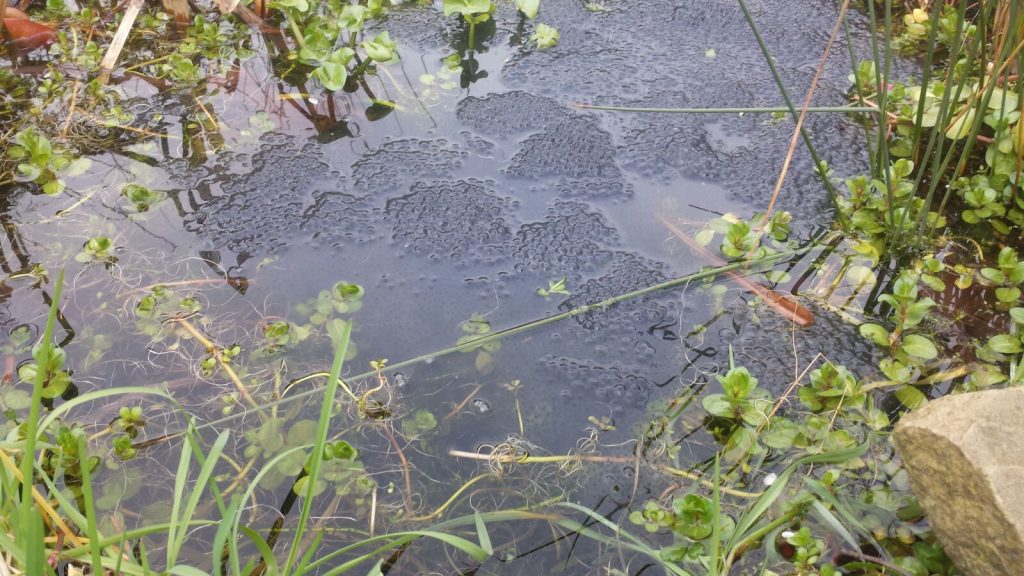 March 14. An incredible amount of frog spawn in the pond.
October. With the help of the Deustche Börse group, outriggers are fitted  to the fruit bush trellis to help organise the raspberries.
2017
September 2017
Hardware and fence posts were bought enabling us to build an enormous new 'bug hotel', using up around a fair chunk of the scrap wood from the old growing beds. A sparrow terrace was fitted on the wall behind the pond and three bat boxes in our wild cherry/plum tree.
The rest of the grant was used for extensive new planting, with flowering species to encourage pollinators during the day and moths in the evenings, along with various additional native hedging plants. Result!
April 17. Frog spotting!
2016
October. With the help of the Deustche Börse group, a trellis is built for the fruit bush hedge to grow on
October. After a year the native hedging has really filled out. The ivy is now starting to really cover the fence.
Last year we were lucky enough to take delivery of 250 native hedging plants (as detailed below). In just one year these plants have established themselves into beautiful hedges and, in years to come, will also yield fruit, nuts and flowers. One section has been converted into a dedicated fruit bush hedge with additional raspberries, blackberries, loganberries and tayberries.
As the pictures show, the pond area is now fully enclosed with hedging and, down one side, various berry bushes. The hedges also shield the new wilderness area and, beyond the pond, at the top of the wild flower meadow create a wide bush of wild 'dog' rose covering the railings to the dog's toilet in the THH managed space behind!
Ivy and Climbers- Update 2016
As a part of our bio-diversity award we planted three different types of ivy along the railings on north side of the garden. This is now incredibly well established and provides a source of food for the bees late into the year after the pollen is finished from other plants.
Wildflower Meadow- Update 2016
As a part of our bio-diversity award we planted a wildflower meadow. In its first year we had a very bright coloured show but mostly of annuals we'd added to the seed mix. This year we have a very different show as the perennials show themselves.
2015
June 2015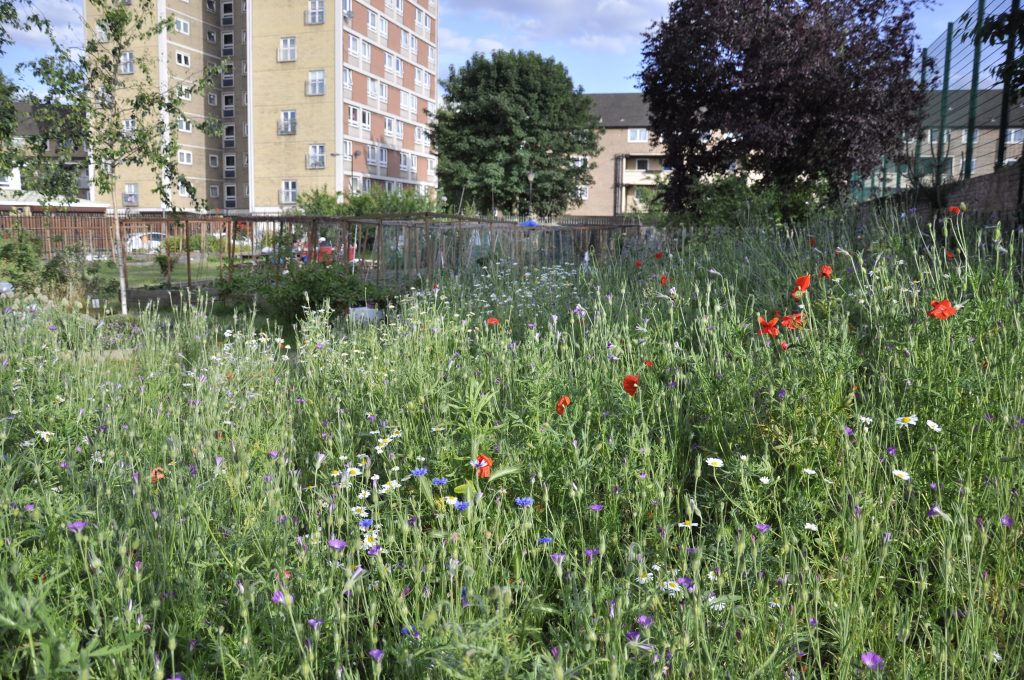 The wildflower meadow now in bloom.
250 native hedging plants won by Ben. Wild Maple, Wild Cherry, Blackthorn, Hawthorn and Dog Rose. A couple of days hard work from Frank and Colin sees them all installed around the pond,  along the sides of the pond area, and beyond.
Pond installed, plants added and we're now waiting for the water to clear